Snakes of Western Australia (2002) by Glenn Storr, Lawrence Smith & Ronald Johnstone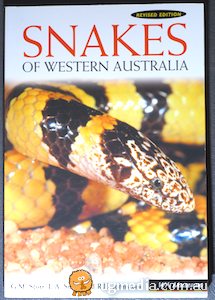 Title: Snakes of Western Australia
Author: Glenn Storr, Lawrence Smith & Ronald Johnstone
Year published: 1986 (I read the 2002 revised edition)
Summary: A content-rich book. Unfortunately it's only for snakes in WA. Of course, to cover the rest of Australia's snakes in equal detail would require another five volumes.
By limiting the geographical scope of this book, the authors have been able to pack in an awful lot of really interesting and useful information. The layout is nice and clean, but the colour photographs of the snakes are all lumped together in the middle of the book. I find ID books much easier to read when the photo is on the same page as the species account. I'm assuming that this book was set out in this way for logistical reasons or to keep costs down. It's only a minor annoyance, and certainly doesn't distract from the in-depth content of the book.
The book has illustrations that label the key scales used in identification and description. There are dichotomous keys for families, genera and species. Each species account has a diagnosis (listing the features that separate this species from others), physical description, distribution information (both textual and a graphical map), general remarks, derivation of name, some key references, a line drawing of the head scalation and, except for a few species, a colour photo.
All in all, this is a very valuable book, even for those of us on the other side of the continent.
---
Give us some feedback
If you have feedback or a comment on the content of this page, please share your thoughts with us. Your feedback won't be published publicly, but if you give us some good info we'll incorporate it into the article above.
Note: You will not get a response to any feedback you leave here. If you have a question, use our contact page.
Please do not ask us to send you a form to get a licence to keep reptiles! You need to contact the relevant fauna authority.