Reptiles and amphibians of Australia (2000) by Harold Cogger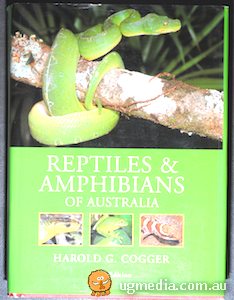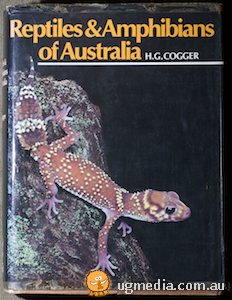 Title: Reptiles and amphibians of Australia
Author: Harold Cogger
Year published: 1975 (I read the latest edition, reprinted in 2000)
Summary: Known simply as Cogger, or The Cog, the various editions of this book have been the backbone of Australian herpetology since 1975. A great reference to have, but currently out-of print.
This is still the most detailed identification book available. At about ten-years-old, it's missing many newly described species and the classification system used is not current, but this book is still used and referenced by herpetologists the world over. Even when species are moved to a different genus, the second part of their scientific name often remains fairly constant. This means that most species that were described at the time of publication can still be found quite easily in this book.
This is by no means a field guide. Weighing in at over two kilograms, this book isn't the sort of item you can shove in your backpack each time you go for a bush walk.
The main features of this book are:
complete listing of all frogs and reptiles described at the time of publication
[dichotomous keys[ for all species (including line drawings of important anatomical features used in the keys)
distribution maps and photos of most species
textual description, distribution and, for many species, natural history information
This book is no longer in print. Second-hand copies do come up for sale from time to time, and even the 1975 edition can fetch around $500. Is it worth that much? I personally don't think so. Most of the information contained within this book can be found in other places. If you're after a current field guide, I'd go with A complete guide to reptiles of Australia. While Hal has told me that he's working on a new edition of this book, he has no idea when it will be published. If you don't have an immediate need for this book, grab another book or wait (possibly for a long time) for Cogger's new edition. Otherwise, keep your eye on eBay.
---
Give us some feedback
If you have feedback or a comment on the content of this page, please share your thoughts with us. Your feedback won't be published publicly, but if you give us some good info we'll incorporate it into the article above.
Note: You will not get a response to any feedback you leave here. If you have a question, use our contact page.
Please do not ask us to send you a form to get a licence to keep reptiles! You need to contact the relevant fauna authority.