A field guide to reptiles of Queensland (2003) by Steve Wilson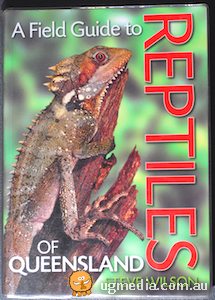 Title: A field guide to reptiles of Queensland
Author: Steve Wilson
Year published: 2003
Summary: The best field guide available for Queensland reptiles.
This is one of my favourite books (dinosaurs aside). From the fantastic cover photo to the great layout inside, it's got everything you want in a field guide. Some of the key features are:
bioregions of Queensland, including photos of representative habitat
illustrations of reptile anatomical features that are used in identification
great photography
When ever I travel in Queensland I always take this book with me, as it's the best book for identifying the reptiles of this state. But I also take an Australia-wide reptile book. I use this Queensland book to help identify whatever species I've found, but I then like to read about all of the closely related species, even those not occurring in Queensland.
One of the best field guides out there (certainly the best for Queensland species), but it's limited to Queensland.
---
Give us some feedback
If you have feedback or a comment on the content of this page, please share your thoughts with us. Your feedback won't be published publicly, but if you give us some good info we'll incorporate it into the article above.
Note: You will not get a response to any feedback you leave here. If you have a question, use our contact page.
Please do not ask us to send you a form to get a licence to keep reptiles! You need to contact the relevant fauna authority.