A complete guide to reptiles of Australia by Steve Wilson & Gerry Swan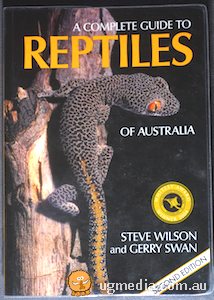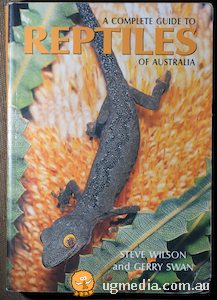 Title: A complete guide to reptiles of Australia - second edition
Author: Steve Wilson & Gerry Swan
Year published: 2008 (first published in 2003)
Summary: well-written; superb photography; the most complete and up-to-date book of Australia's reptiles.
This book is the most up-to-date and most complete of all the Australian reptile identification books. This second edition sees the addition of more than 30 new species, for no extra charge! If you've got the first edition, the new species are the main reason you'd want to get a copy of this second edition - most of the information and pictures are the same. (As an aside, I'd like to nominate Carpentarian whipsnake (Demansia flagellatio) as the sexiest snake in Australia, based on Gunther Schmida's picture in this edition.)
The book has diagrams illustrating the various anatomical features of reptiles that are used in identification, such as lizard head scales and snake ventral scales. It then goes on to list each of the 864 recognised species, categorised by taxonomic group. Each species account contains a description of its appearance along with the key features used to identify it. The species' range and habitat preferences are also included. Some species also have a small amount of natural history information, such as mode of reproduction and diet. Subspecies are discussed and pictured where appropriate.
In order to display all species and yet still keep the book small enough to be portable, the species accounts are necessarily brief. This book is an ID book - it doesn't contain much in the way of natural history information on the species, but then again not many recent books do. As an ID book, one feature is conspicuous in its absence - dichotomous keys. Dichotomous keys are 'choose your own adventure'-type lists that enable the identification of (for example) an animal by presenting the reader with a series of pairs of mutually exclusive options. By working through these options you eventually arrive at an identification of your species. The authors chose not to include keys in this book primarily due to space considerations. I don't think the omission of keys is a problem. Current keys for reptiles frequently rely on characteristics such as the number of subdigital lamellae under a skink's fourth toe or being able to see if there are more than 380 ventral scales. These aren't characters that are easily assessed in the field, and so the usefulness of a key in a field guide is limited.
The currentness and completeness of this book are the two features that make this a must-have item on any serious reptile enthusiast's bookshelf.
---
Give us some feedback
If you have feedback or a comment on the content of this page, please share your thoughts with us. Your feedback won't be published publicly, but if you give us some good info we'll incorporate it into the article above.
Note: You will not get a response to any feedback you leave here. If you have a question, use our contact page.
Please do not ask us to send you a form to get a licence to keep reptiles! You need to contact the relevant fauna authority.