Australian snakes: a natural history by Rick Shine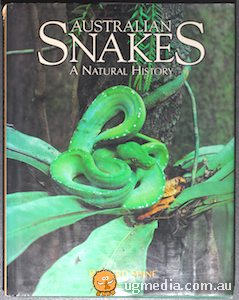 Title: Australian snakes: a natural history
Author: Rick Shine
Year published: 1991 (with a few reprints afterwards)
Summary: an easy-to-read and fascinating look at the private lives of snakes.
This is the first snake book I can remember reading as a child. I won't say it's responsible for my current obsession, but it was certainly a contributing factor.
As the title suggests, this is not an ID book. Written by Professor Rick Shine, one of the world's leading and most-respected herpetologists, this book will give you a glimpse into the lives of these remarkable and often secretive animals. In a career spanning over 30 years (and counting), Rick has compiled a huge amount of data on Australian reptiles. In this book he combines this data set with numerous personal anecdotes and presents it all in an easy-to-read style accompanied by pictures from some of Australia's best reptile photographers.
Australian snakes contains the following chapters:
Anatomy of a snake
The evolution of snakes
Where snakes live
The behaviour of snakes
The sex lives of snakes
Snake life histories
What snakes eat
Snakes and humans
Appendix - natural history information (size, reproduction and diet) for most Australian snake species
The book was slightly revised for some later reprints, but no substantial changes were made. Rick tells me he currently has no plans to produce a second edition of the book.
There's really not much else to say. If you have an interest in snakes, or reptiles in general, you will get a lot of enjoyment and knowledge from this book. In saying that, if you have an interest in snakes, you probably already have this book.
---
Give us some feedback
If you have feedback or a comment on the content of this page, please share your thoughts with us. Your feedback won't be published publicly, but if you give us some good info we'll incorporate it into the article above.
Note: You will not get a response to any feedback you leave here. If you have a question, use our contact page.
Please do not ask us to send you a form to get a licence to keep reptiles! You need to contact the relevant fauna authority.